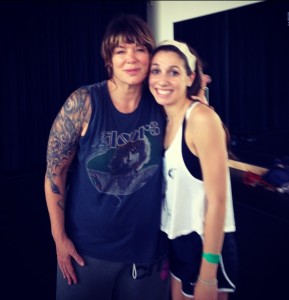 Recognize this famous choreographer?
Over the summer, Starship's own Emily Limoncelli had the honor of attending Joffrey Ballet West's Summer Camp. While studying there, Emmy had the distinct pleasure of meeting Emmy-winning choreographer, Mia Michaels. As part of an assignment in the Choreography and Composition Class, Emmy discusses meeting Mia.
"Mia Michaels is a contemporary choreographer most famous for her work with TV show So You Think You Can Dance. She has worked with many singers and also Cirque de Soleil. What I find special about her pieces is the raw emotion she uses as inspiration and the feeling of chills she often leaves you with.
Working with her over the summer was one of my favorite experiences ever—just to take class with her was a blessing. She has a certain grace about her yet is so relaxed and surprisingly approachable.
She taught me to appreciate beauty not in technical ways, but in the simplest, pedestrian movements. She taught me to move through my gut, to move with the music, rather than dance what I know is pretty. She taught me how to express, and I believe expression is what makes a dance."
Mia Michael's influence is certainly seen this year in Emmy's choreography for the class. Thanks for sharing, Emmy!