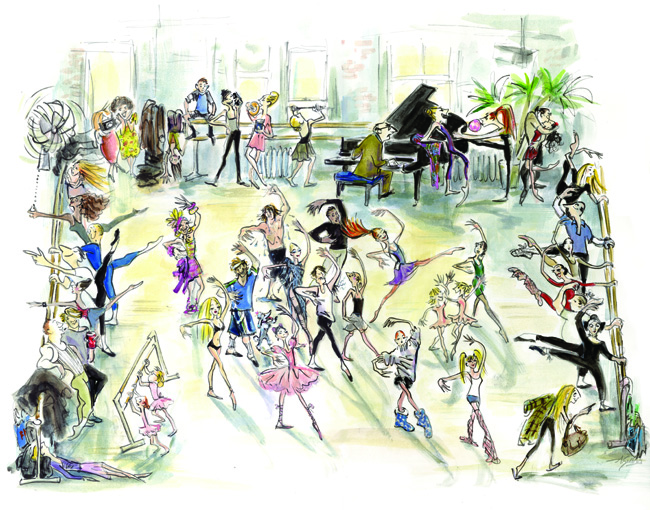 The kitty is getting full and she has been purring with happiness as she has not been disturbed by running children, questions about the time, nor tripping over belongings of her dancer friends.  She has plenty of delicious snacks for Sunday, including the much sought after white cheddar cheese and gluten free protein bars for the hungry Ballerinas, Gents, Mistresses, and Directors. She is awarding  .25 cent to every dancer that can point out at least 1 example of what does not represent Starship or the Magic Toyshop Rehearsals in the picture above. The dancer must provide at least 1 example of the expectations of our dancers or cast from the 2014 Contract that was signed.  The coins can be applied towards something from the Healthy Snack Table.
The  illustration was created by Andrea Selby, for the Ballet Companion, by Eliza Gaynor Minden.  This is in invaluable resource for young dancers (and their families) and a must have for his/her bookshelf.
We do expect that all long hair will be secured in a tight bun, and short hair worn tight to the head.  No loose strands, pony tails, or braids.  Bring extra bobby pins if necessary, as they seem to disappear like matching socks!!
All dancers should have appropriate foot wear(except during baby doll or bear roles).
Please be mindful of jewelry. Generally a dancer should not wear any jewelry at all to rehearsals, though if part of your costume is stud earrings, we'll make an exception (Ballerina doll, Can-Can Lead, Russian Princess). If you're a dancer who wears glasses, know that you will not be allowed to wear them on stage so it may be smart to look into alternative options or practice dancing without glasses.
All of these protocol should be followed at Rehearsal.  If you have any questions, please ask!
Thank you!