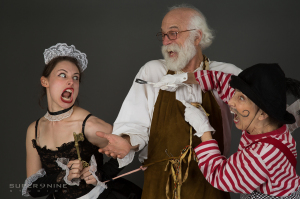 Have you ever wondered who produced those fabulous photographs of the dancers in the Starship family?
From the eye catching scenes on the Starship website, to angelic postcards, headshots galore, the Magic Toyshop albums, Spring Performances – and many more amazing pieces of artwork, Sandy Connolly captures the essence of a Starship dancer.  She has been photographing scenes from Starship Productions for many years, providing us all with the enjoyment of her beautiful photographs.
Hopefully you had the opportunity to view the display of the albums containing the photographs of the cast of The Magic Toyshop 2014 on Sunday.  If not, they will be available again this Sunday.  The photographs are available for purchase on the spot for $1 for a 4×6, or $2 for a square.  If you wish to purchase a photo in a larger size, or without the watermark, please proceed to the website to place the order.  There are multiple copies available at the rehearsal, however if a photo is missing, Sandy can print one up for you!!  There will also be order forms available.
The Magic Toyshop 2014 album can be viewed at http://proofs.super9studios.com/Dance/Magic-Toyshop-2014/.
Sandy has been shooting for Starship back to when her daughter wore a pink leotard, and has dedicated many hours to producing beautiful photographs of our dancers.  She and Irene Leiber founded Super 9 Studios at about that time, when they stormed in as Hurricanes!!  Check her out at Super9Studios.com, or contact her directly at Sandy@Super9Studios.com
Never ordered that photo from the Spring?  It is not too late, peruse the album again – they are only young once!!