Tyler DuBoys, a C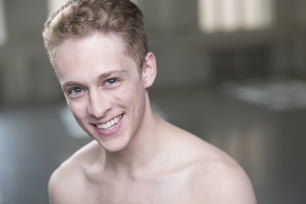 onnecticut native, received his B.F.A. in dance from NYU Tisch School of the Arts where he also pursued an independent study of Pedagogy and Musical Collaboration with the Graduate Dance Department. Tyler is also on faculty at the Performing Arts Center of Connecticut where
he was a member of In Motion Dance Company until he became a co-choreographer for the company, as well as assisting the artistic director with several projects.
In 2011, Tyler became a certified AntiGravity Yoga® instructor which is what initially brought his dance and movement practices up off the ground and into the air. Since then, he has been teaching a variety of aerial classes in the tri-state area and continues to explore and teach a wide range of movement techniques.
Throughout the years, he has had the opportunity to perform works by Larry Keigwin, Deborah Jowitt, Sidra Bell, Takehiro Ueyama (Take Dance), and Andrea Miller (Gallim Dance), just to name a few. In his final year at NYU he had the opportunity to collaborate with and perform works by Netta Yerushalmy, Vita Osojnik, Gregory Dolbashian, and the Jose Limon Dance Company. He was also a participant of Springboard Dance Montreal, where he performed excerpts from Johannes Wieland's, "You Will Be Removed."