We love to share the happenings of our dancers, alumni, and Starship families!!  Please keep in touch and forward information so we can all stay connected and show support for each other!!
Carter Popkin, featured as a Peasant, Card, and Cossack in The Magic Toyshop 2014, has been nominated for a BroadwayWorld Connecticut Award for Best Young Actor!!  Please show your support for our Starship Dancer and vote for him via the link below.  The contest runs through the end of the month and every vote brings him closer to the goal!! Carter was nominated for this award for his role in the Great Cinnamon Bear Christmas Radio Show with Pantochino Productions.
Carter and several other students, are depicted in the photo below, having fun while practicing their improvisational skills in the weekly  Musical Theater class at the Studio with Aliza Maynard.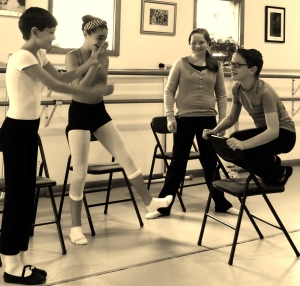 Currently, he and Aaron Tessler are rehearsing for a production of the Wizard of Oz, through the Vista Arts Center.  The show runs February 14 – 16th at the Ivoryton Playhouse.  More information can be found on the websites of Vista and the Ivoryton Playhouse.
Send us an email and photos and let us know what you or one of our friends are up to!!