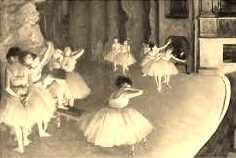 Dress Rehearsal of the Ballet – Edgar Degas
Full Dress Rehearsals for the Magic Toyshop have begun!!  We will see you Sunday for the second full dress rehearsal and more fun.
1:00 to 1:30 –  Warm up for all dancers led by Keith.  Starts at 1:00 sharp, be prompt.  Proper dance attire – no street clothes. No jewelry, or glasses.
1:30 First run through for all dancers to Can Can Dance part of show.  Without Costumes.
BREAK  – While Can Can Dance is rehearsed, all other dancers to get dressed in costume.
After Break  – 5:00  Second run through in costume for all dancers.  Modifications. Notes.
Shoes, tights, accessories, and hair should be worn as specified by part.  Arrive at the rehearsal with hair already prepared – in bun, pinned, curled, braided, french braided, pasted to head.  Do not drop off your dancer, or arrive at rehearsal without hair taken care of and without extra supplies.
Make up – if the dancer wishes, but not required.  The Shoreline Arts Alliance will be photographing on Sunday.  Rag Dolls and female cards should have red rag doll cheeks for Sunday 11/9.  Arrive with make up on – there is not time built in to the rehearsal for it.
Interns, adults that are in the show, costume mistresses, directors, and all other adults that are at the Community Center to help with an aspect of the show will not be hair dressers or make up artists this Sunday.