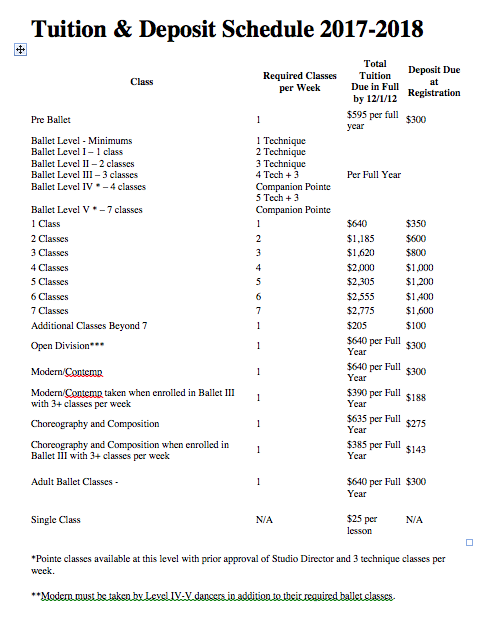 Tuition17-18
*Pointe classes available at this level with prior approval of Studio Director and 3 technique classes per week.
**Modern must be taken by Level IV-V dancers in addition to their required ballet classes.
***Open Division is for ages 12+. This track is an exploration of dance and requires only 1 class per week. The classes in the Open Division are Choreography and Composition, (Monday) Modern, (Tuesday), Contemporary (Friday) and/or Open Division Ballet (Saturday). Director must approve any single Ballet class taken. Dancers must wear HUNTER GREEN.
Additional classes beyond the number of required classes are available at an additional cost.
Notes: 
All Students who wish to register for classes in a manner that is not consistent with Starship Dance Studio policy must receive approval from the director.
All dancers En Pointe will need to take a minimum of three technique classes per week plus Pointe instruction to continue.  Those who would like to continue Ballet instruction, but who will not be continuing to devote the time in class required to stay En Pointe may request permission to take advanced classes on flat.
Level IV – V dancers must take a Modern class.  All level IV see director for a level placement.  All Level V dancers will be placed in Intermediate/Advanced Modern.
All Level III dancers are encouraged to take a Modern class to aid in development of their dance skills.
If you're looking for Vacation days or a basic weekly schedule, please visit the CLASSES page.