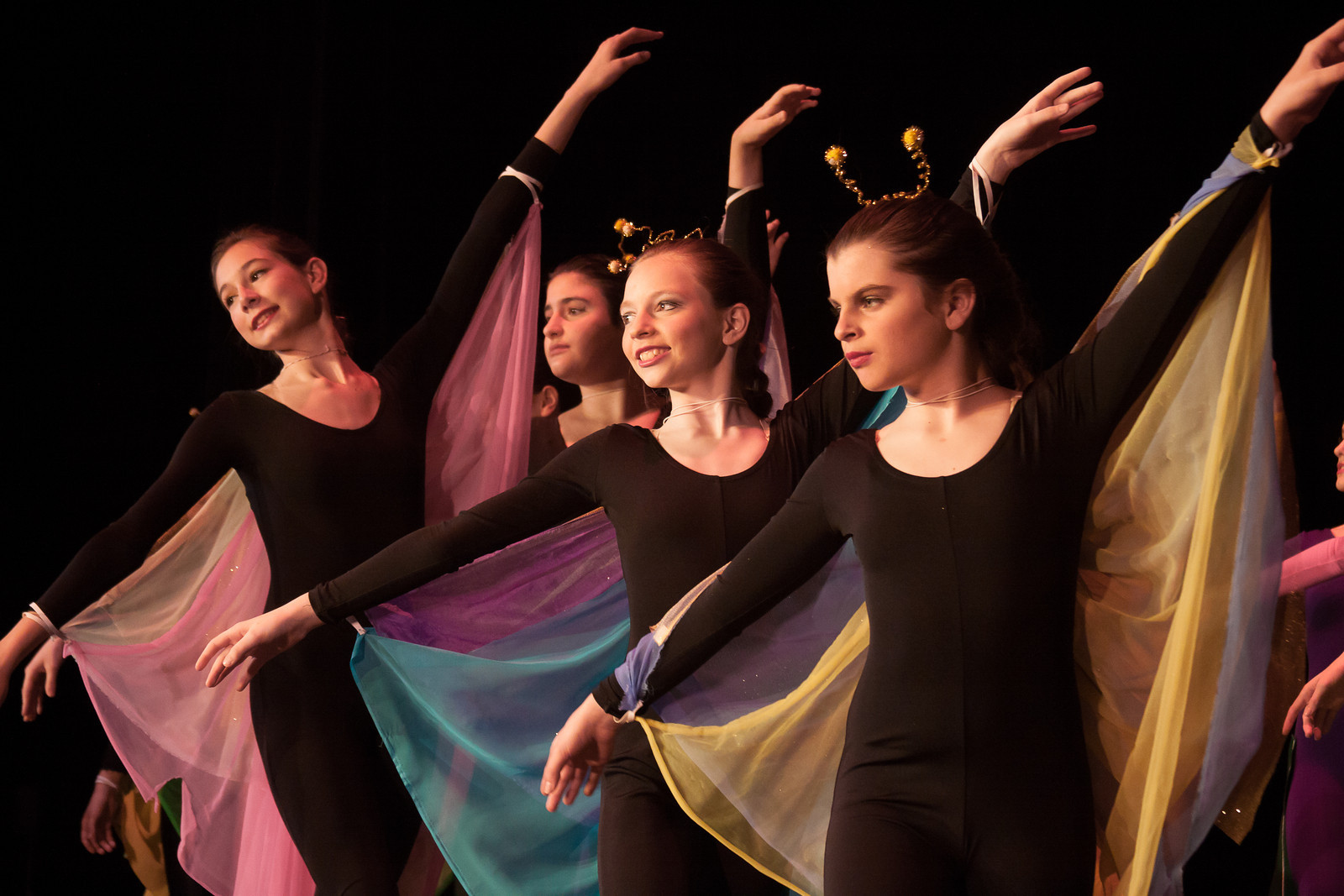 We are very excited to announce the launch of our online ticketing adventure! If you've ever purchased tickets online, this should be a familiar process for you! However we are happy to provide a step by step how to, just to make sure you get your tickets for Alice in Wonderland with plenty of time to spare. Follow the guide below OR head over to the site to purchase your tickets.
https://web.tututix.com/client/starshipdance/
Some quick answers, if you're not inclined to scroll all the way through: 
Due to the fact that our show is fast approaching, you should absolutely print your tickets at home.
You can check out as a guest – no need to make an account
You can select your seats in advance
If you're in need of handicapped seats, please email starshipstagemanager@gmail.com
If you plan to attend the Tea Party following Saturday's performance, make sure you purchase a ticket for that as well!
When you go to the site, it should look like this: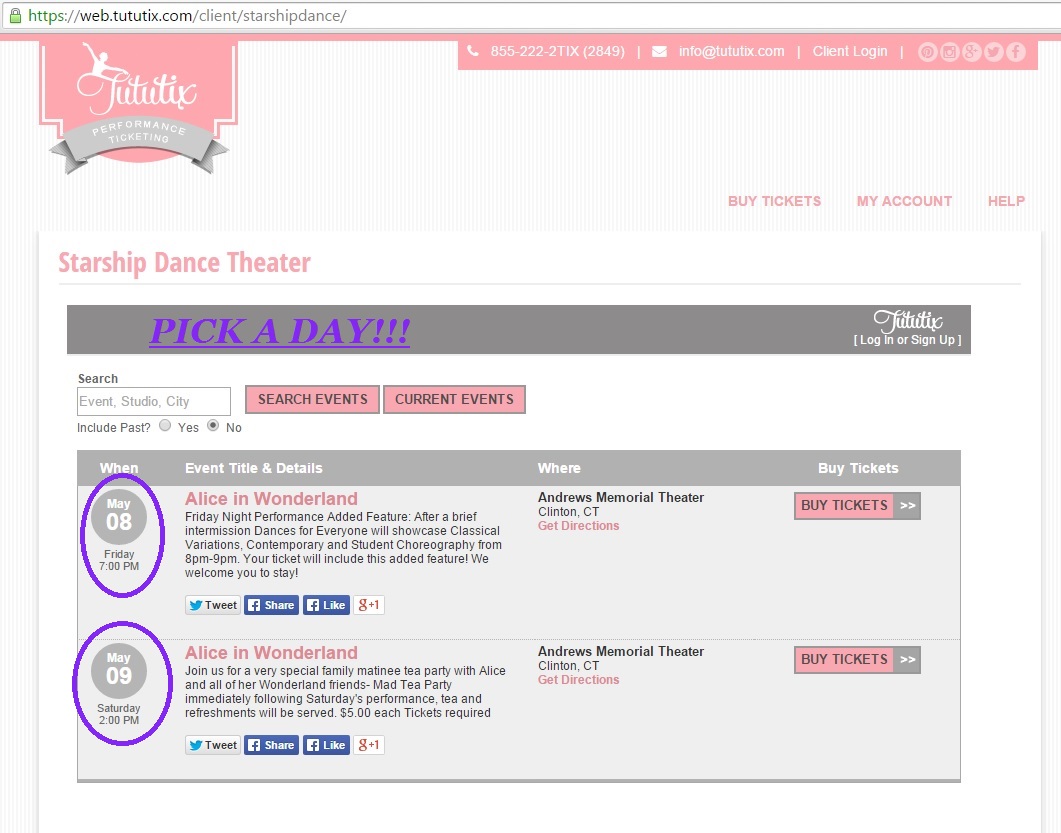 Select your day by clicking the corresponding "Buy Tickets." Keep in mind if you are attending the Tea Party on Saturday, you'll be able to purchase tickets for that through this site as well. We will address that later.
On the next page, below, you'll be able to select the number of tickets you'd like. You should then pick BEST AVAILABLE, then click FIND tickets.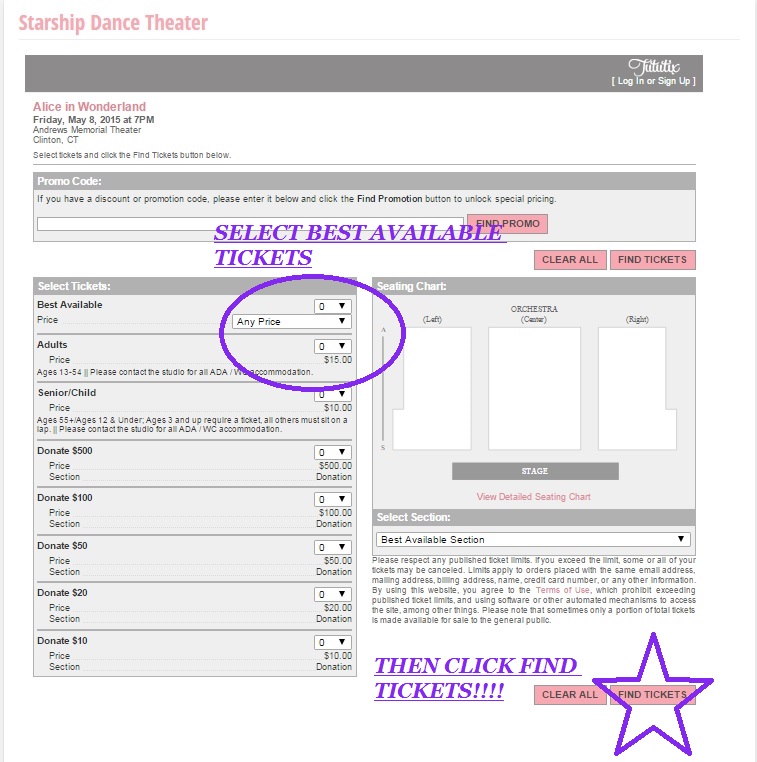 The website will refresh itself and take you to a page like this:
There will be a clock at the top – you have 10 minutes to complete your purchase. You'll be able to move your seats around by clicking the boxes! Just make sure you de-select the seats you do not want by clicking on them. The darkened boxes are YOUR seats.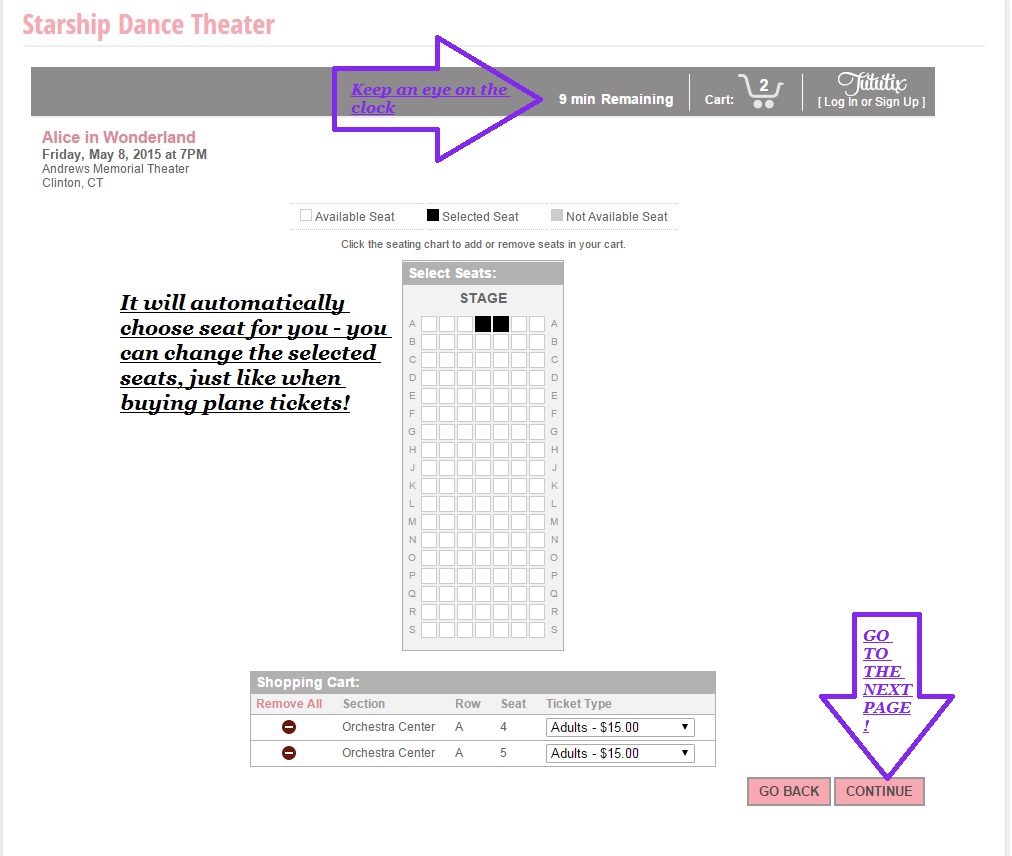 On the next page, make sure the quantity and location of seats you have selected is correct. You can add your dancer's name to your tickets!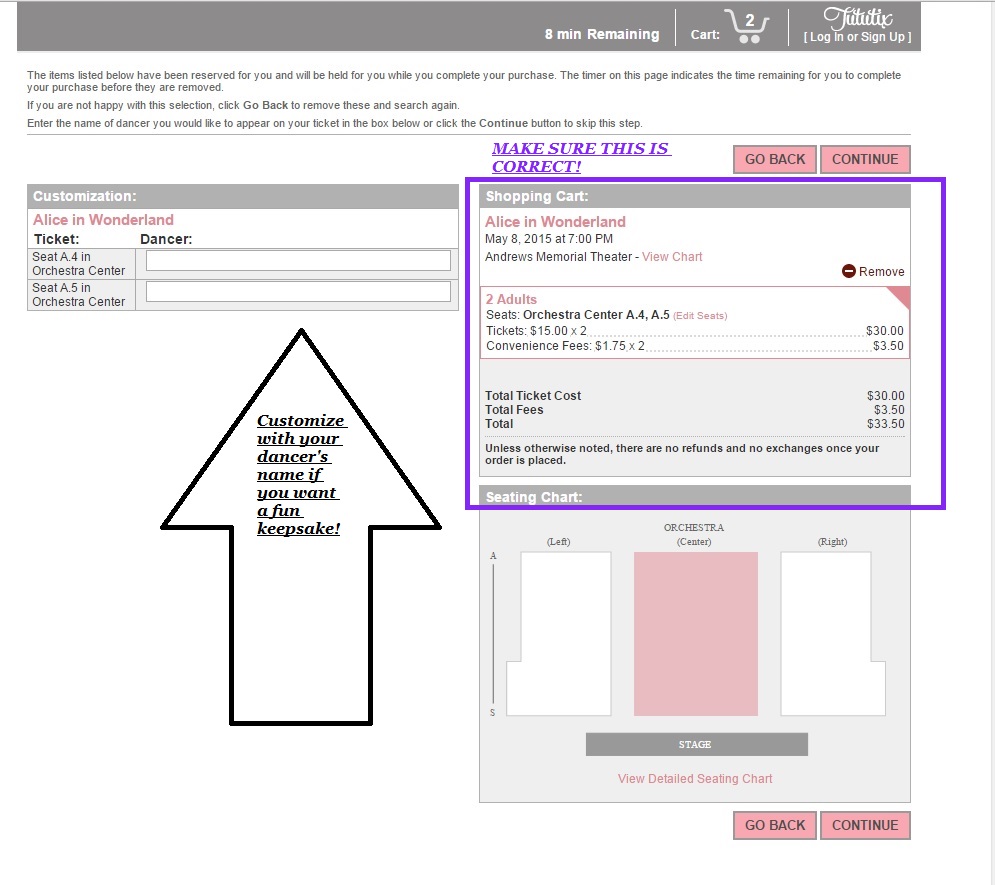 THIS IS VERY IMPORTANT: PLEASE SELECT THE PRINT AT HOME OPTION!!!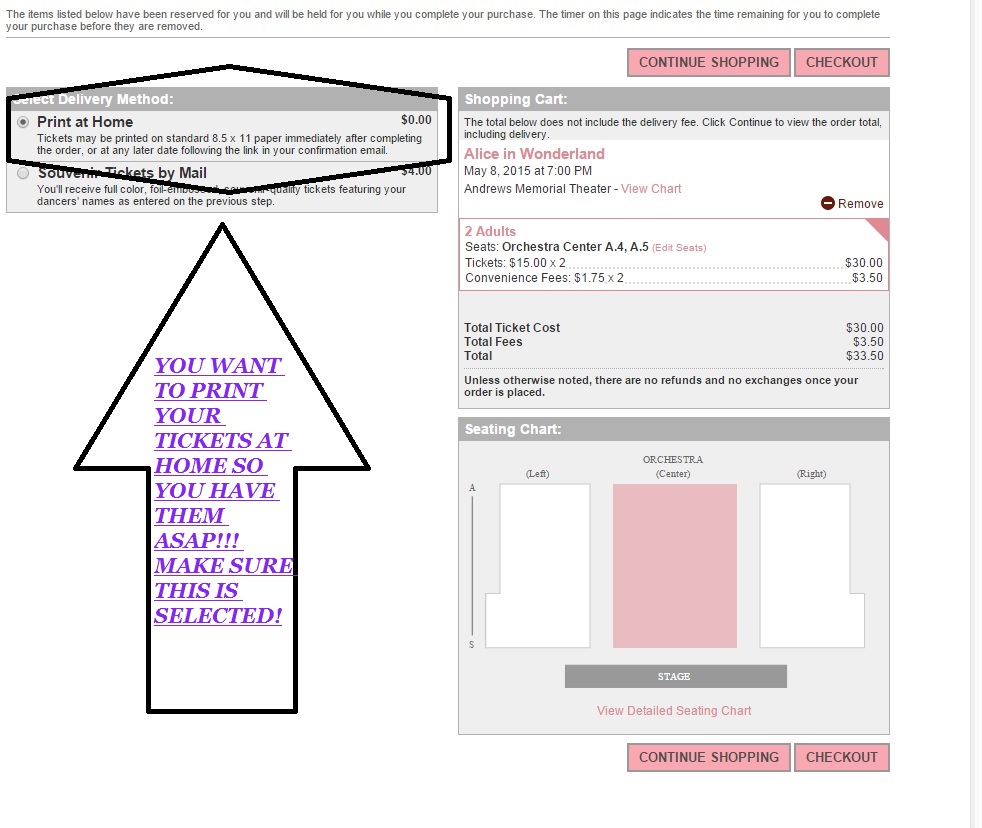 Before you check out, here is how to add the Tea Party to your purchase! HIT CONTINUE SHOPPING!
Once you've selected the Saturday performance, you'll have to add the tickets separately. SELECT your quantity of Tea Party tickets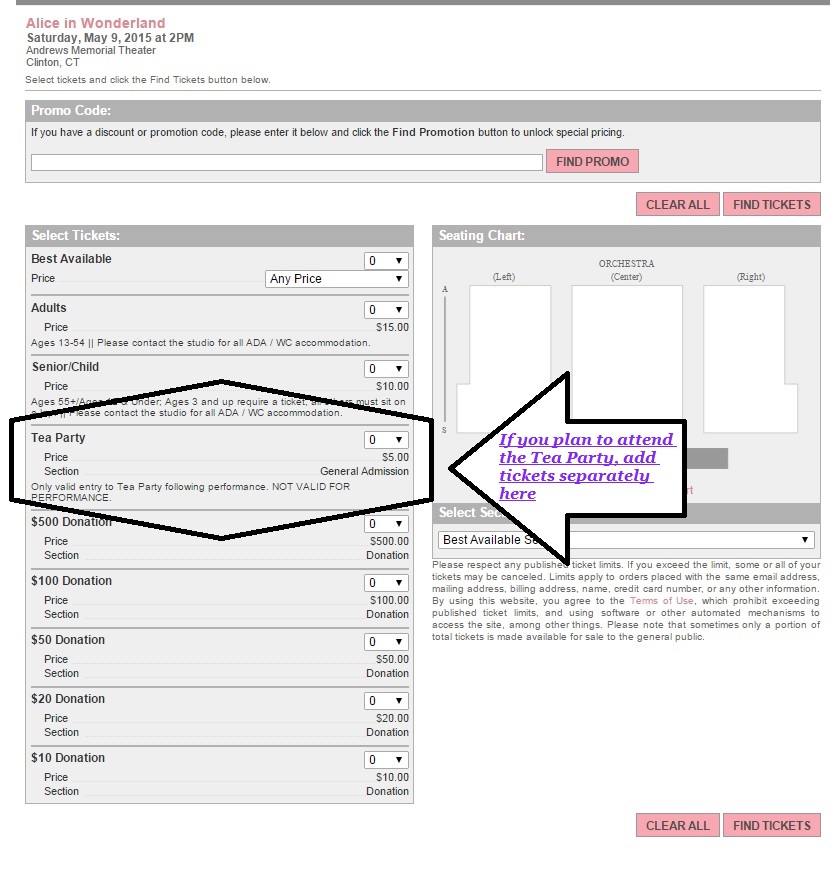 Verify that you have the correct amount, then click CONTINUE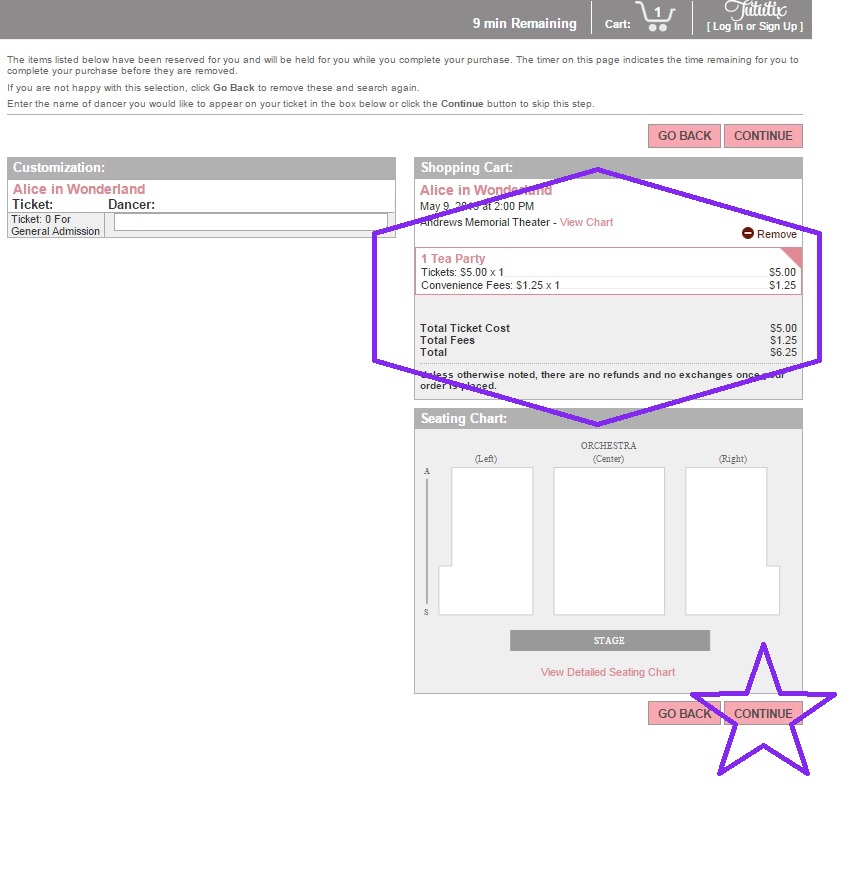 Select PRINT AT HOME and hit CONTINUE. You should then be able to select "check out".
After selecting check out, you can continue as a GUEST. There is no need to make an account. You can, if you'd like, but you don't need to.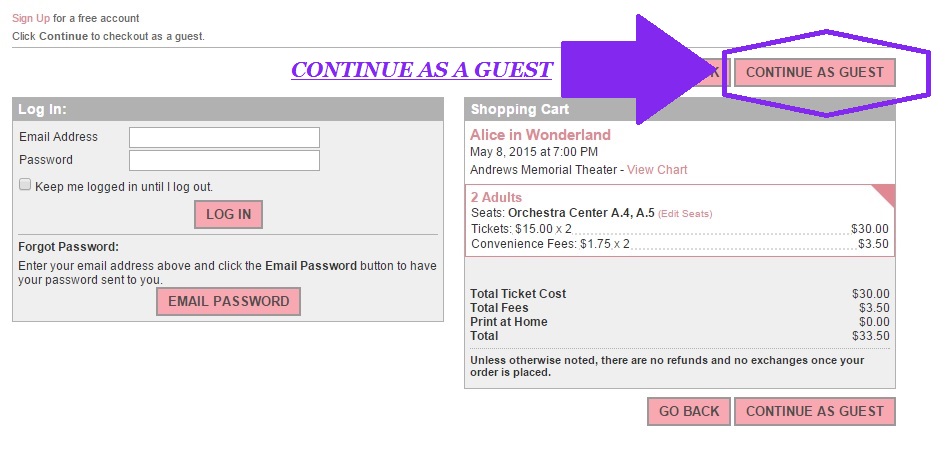 If you are attending the Tea Party, make sure your cart has both your performance tickets and Tea Party tickets.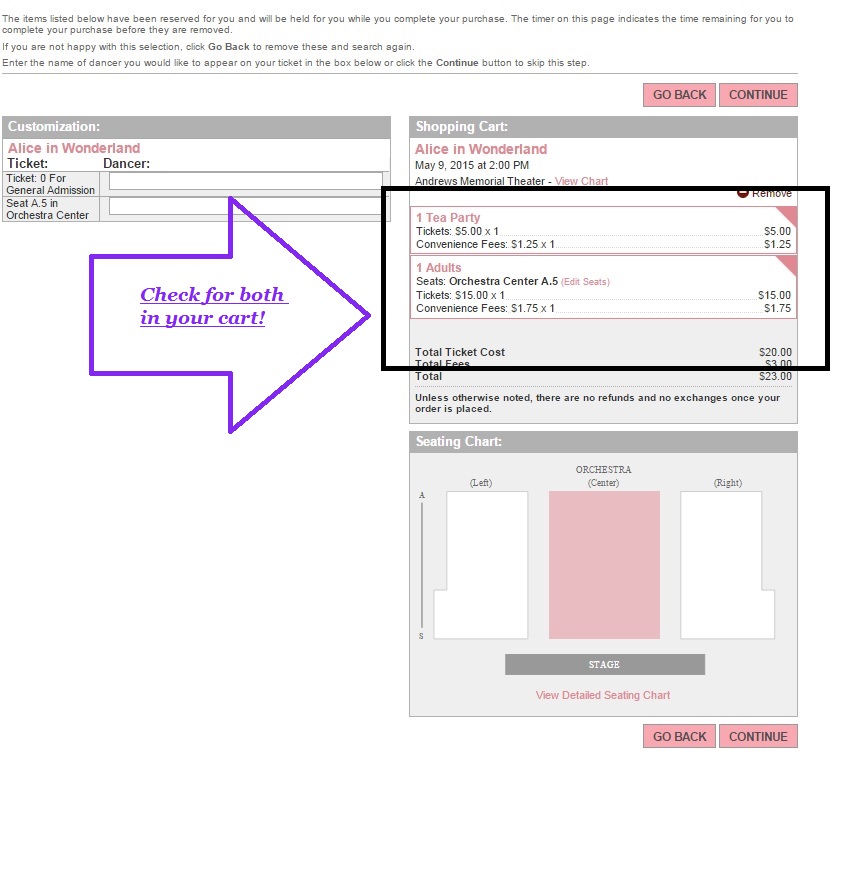 ENTER YOUR CARD INFORMATION and you should be good to go! You'll be taken to the tickets to print, and should be able to download them.